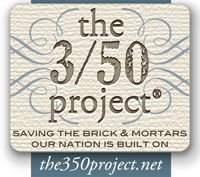 In a shop near where I work, I picked up a flyer on The 3/50 Project, a grassroots initiative supporting locally owned businesses. The concept was hatched in the depth of the recession, when Cinda Baxter wrote a blog post titled "Save the economy three stores at a time."
Her suggestion: pick three independents and spend $50 per month in each.
A movement was born. National media picked up the story. A good idea went viral.
The 3/50 Project claims that for every $100 spent in locally owned independent stores, $68 returns to the community through taxes, payroll, and other expenditures — more than generated by national chains or online purchases.
The 3/50 site offers qualifying independents free 3/50 art for flyers, window clings, countertop signs, print ads, website badges, and more.
Who qualifies as an independent? "Someone who sleeps little, eats on the run, balances their checkbook over the breakfast table, combs through order forms in bed at night, and is capable of sorting invoices, signing paychecks, fielding questions, responding to emails, and faxing confirmations while simultaneously explaining to a new employee how to check in UPS." (Here are the official requirements.)
Picking three independents to support was tougher than I thought. In the spirit of the movement, I looked for locals in categories where I have chain options. But $50 a month? As much as I like coffee, I can't spend that much in a coffee shop. So I settled on these three:
Figlio, a restaurant near where I live
Carnardo Wine & Cheese
FrontRunner, a running store

What are your picks?